This semester, UC Clermont has been involved in creating an app designed specifically for college students titled "Modes Visual Music." The app was designed by Emily Verba Fischer with music provided by John Hebbeler. Two of UC Clermont's professors, Jill Gomez and Meera Rastogi, collaboratively assisted with the design. A digital media study was conducted on campus testing student reactions to the app.
"Modes" was designed for the purpose of providing a relaxation app tailored to college students and their busy schedule. In the app store, the experience of using the app is compared to "playing in a sandbox of dynamic visuals and music. Each mode offers a unique set of visuals and music designed for anxiety reduction. Different visual and sound landscapes appear as you tap, swipe, draw, pinch, and hold down with one finger." The app has a simple, minimalistic, yet colorful design befitting a program meant for mindfulness.
Mindfulness is the practice of taking time out of one's day to be aware of how the body is feeling, and focusing on the present for the purpose of clearing one's mind. This can be a fairly difficult thing for college students to practice if they are stressed about big assignments, finals, work schedules, and other things. For many, meditation seems too silly or difficult. Luckily, meditation isn't the only form of mindfulness. "Modes" brings mindfulness to your phone in a simple way that feels like a game, in the same way that popping bubble wrap is enjoyable and relaxing.
The three modes titled "refocus," "chill," and "energize" meet the varying mental needs of a college student, as well as anyone else. The method for varying modes was developed by UC Clermont professor's Meera Rastogi and Jill Gomez. Dr. Gomez, a professor in the social work department of UC Clermont, contributed to the design of "Modes" with her knowledge obtained as an Ayurveda instructor of ancient Indian medicine. In our interview, she explained the concept of Dosha types—Vata, Pitta, and Kapha—which are "made up of all the elements in the universe. All people have those elements, but we tend to have a primary Dosha type. It's easy for us to get out of balance. The app was designed to do the opposite for whatever Dosha was out of balance, so if you're a student and you're studying for a test and you're all in your head—you're all air and space—the app would have grounding, earthy colors like brown and green."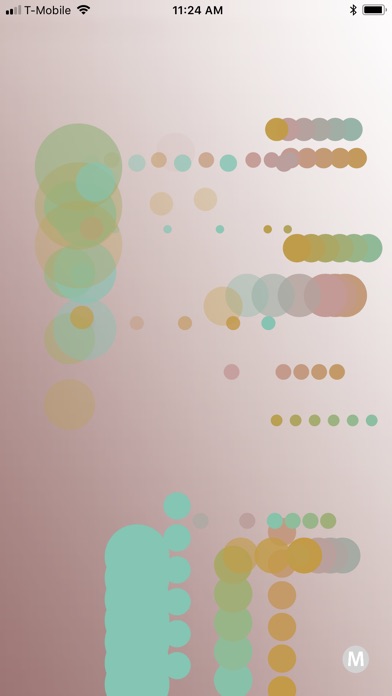 The first mode, refocus, has earthy tones such as brown and green, for a grounding effect. The music is slow and reverberating. Where you touch the screen, bubbles of color appear; you can form lines and draw with the bubbles, or pinch the screen and watch the bubbles have a mind of their own. Each mode has an option to change the background to another color that fits the theme.
The second mode, chill, is meant to be relaxing. The color scheme consists of blues, yellows, and white. The background music is simple until you touch the screen, at which point the program introduces varying notes, creating a symphony.
The third mode, energize, is made up of fiery colors: oranges, yellows, and reds. The music is still relaxing, but evokes action with its large bubbles and bright colors.
Meera Rastogi contributed knowledge from her experience as an art therapist and psychologist in the testing of the app. Because she is familiar with the research, measurements, and treatments of anxiety, her contribution was towards creating and implementing the digital media study that took place at Clermont campus.
The study involved a small sample of students from the campus that participated voluntarily. They were told to answer questions measuring their levels of anxiety; they then spent some time playing with the app. Afterwards, the questions were answered again, showing that the student's anxiety had decreased. While Professor Rastogi remarked that the study didn't include enough participants to determine if the results were statistically significant, she also noted that if the app helped a small sample of students, it could also likely help many more.
For students stressing about the end of the school year, but also feel that meditation is out of their comfort zone, this app is a perfect way to either refocus, chill, or become energized about finishing that last paper or project. Jill Gomez says that "the purpose of meditation even in this [the app]  is to silence the thoughts—to get out of your head. The purpose is to create space so your brain can think again. It's giving your brain a break."
For many students this time of year, their brains deserve a well-needed break. "Modes" can help. You can find it for free in the app store under "Modes Visual Music," or click the link down below.
https://itunes.apple.com/us/app/modes-visual-music/id1299742326?mt=8